This is a new departure for Blackburn Symphony Orchestra – a Sunday afternoon concert. The weather has been dreadful for our recent Autumn concerts, and the dark nights don't help either. So, we have moved the concert to Sunday afternoon – with a light hearted and enjoyable programme to keep you entertained.


We are pleased to announce a new partnership with Just Imagine NW who will join us to present the concert, with fairy tales from 2:15 pm, an opportunity for children to "meet the instruments", and a special guest to introduce the music. Places are limited so please book a (free) child ticket early to reserve your place.
We begin with the  Overture to Poet and Peasant. Suppé was Austrian and wrote many operas in the 19th century, making a musical career in defiance of his father's wish for him to study law. This overture is perhaps better known as the Spinach Overture from the Popeye cartoon. Watch out for a beautiful cello solo!
Then the beautiful and serene adagio for strings by Barber, written in 1938 when Samuel Barber was just 26 years old. The music is meditative, some might say sad, and always a pleasure to listen to.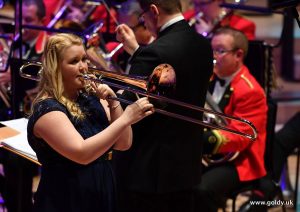 We are delighted to welcome Isobel Daws to play the Rimsky-Korsakov Trombone Concerto with us. A student at Chetham's in Manchester, Isobel has won both the Chetham's  Concerto Competition and BBC Young Brass Award this year – an exciting and talented young player to keep the orchestra on our toes.
The concerto is both exciting and lyrical – often seen as the definitive concerto for trombone.
The Sorcerer's Apprentice featured in the 1940s Disney film 'Fantasia'. It begins very mysteriously and quietly then gets wilder and wilder until it ends in a riot of sound and magic.
The Hansel & Gretel story is well known, as the hungry children are sent into the forest, find the gingerbread house, and fall into the clutches of the wicked witch – only to escape after pushing the witch into the oven…….
The overture to Humperdinck's opera opens with a beautiful horn chorale, followed by exciting hocus pocus introduced by the trumpets, and ending on a serene note as they all live happily ever after (except the witch).
We close our concert with Tchaikovsky's Sleeping Beauty Suite, another children's story with a wicked female lead!
The introduction is fast and exciting, the adagio is beautiful, and the waltz is just divine ("I know you I walked with you once upon a dream…..")