Our Spring concert returns to the fabulous Blackburn Cathedral for a quintessential programme of English music.
We begin with Britten's Four Sea Interludes, probably some of the most dramatic "scenery changing" music ever written. The music beautifully evokes Dawn, with the sun rising over an emotionally charged village, followed by Sunday Morning church bells, then an early Moonlight interlude, and followed by a bracing and tragic Storm.
Four Sea Interludes
We are delighted to welcome Waynne Kwon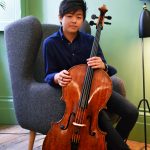 to play the Walton Cello Concerto with the orchestra. A student at the RNCM, after a childhood in Korea and Australia, Waynne won the Finalist Prize at the Bromsgrove International Music Competition and was a winner of the 2017 Concerto Competition at the RNCM.
William Walton, born in Oldham, composed the concerto in 1956 and considered it one of his best works.
Cello Concerto
Elgar's Enigma Variations are ever popular, ever interesting, ever a puzzle. From the soaring heights of Nimrod to the spiky H-D-S-P and lyrical cello music in B.G.N. there are always tunes to remember and new insights to explore.
Enigma Variations